Flipping is a popular model on eBay that a lot of sellers use to supplement income from their full-time jobs. A good proportion of the 1.7 billion-plus listings on eBay are items that have been flipped from other stores.
Flipping is a tried-and-tested model for making money on eBay. With the ease of selling on eBay and the low entry cost associated, you can make money from flipping on eBay, regardless of your level of experience.
In this post, we'll discuss what flipping entails, how to find products you can flip, how to validate your product ideas through product research and how to maximize your income earned from flipping on eBay.
What is Flipping?
Flipping involves buying items, holding them for a short time, and quickly reselling them for a profit. It is a strategy that is most commonly associated with the real estate industry where investors buy pre-foreclosure homes, rehab them and sell them for profit.
However, flipping can be used to refer to the purchase of any asset which is then resold for profit as soon as possible, such as crypto, shares, cars, concert tickets, or sports tickets.
On eBay, you can flip almost anything that doesn't violate eBay's policies and regulations. You can flip bags, shoes, instruments, furniture, and so on. If you can buy it low and sell it high, you can make more money.
How to Find Items to Flip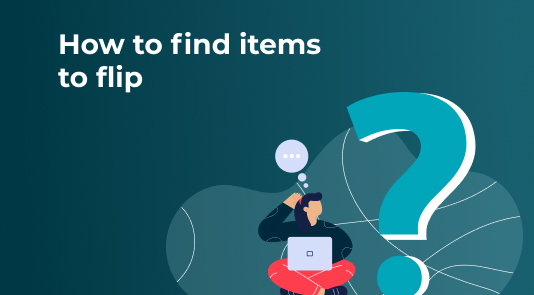 There are several different places you can source your items from. These include:
Thrift Stores: You can find used items to flip in thrift stores. Local thrift stores often sell used items such as books, clothing, and furniture and are usually run by a not-for-profit charity group. A thrift store may also include sections for business wear, children's clothing, toys, appliances, and household items. You can expect to find bargain items that have been pre-owned but are relatively high-quality.
Liquidation Lots: Lots of businesses end up with overstocked items that they sell in bulk, otherwise known as Liquidation Lots. The aim here is to purchase a liquidation lot in bulk, that you can then resell individually for profit. Check out this complete writeup we did on flipping liquidation pallets on eBay and Amazon.
Flea Markets: If you aren't familiar with flea markets, they are a type of street market that specializes in selling secondhand goods. Flea markets tend to be seasonal. You can find pretty much anything for sale including antiques, collectibles, shoes, vintage clothing, furniture, shoes, etc.
Garage Sales: A garage sale, also called a yard sale, is an event that involves the sale of household or personal articles within the premises of the owner(s). The items sold in a garage are often items that have been discarded by their owners but still have reuse value. These sales are often held in a garage but they can also take place at a carport, frontage, or even inside the house.
Items usually sold at these sales include video games, board games, garden tools, furniture, jewelry, appliances, books, toys, and even clothing. These items might need to be restored, in some cases.
Facebook Groups: Facebook buy-and-sell groups are also great for finding items to flip on eBay. The posts in these groups are similar to normal posts but they include the items' prices and prompts to buy. You can message the seller directly to purchase if you find a really good item at a bargain. Also, if you are looking for a specific item, you can use the search bar or click on the "Items for Sale" link to see all the items available for sale in the group.You should note that it is possible to get scammed on these groups. So, be sure to exercise due caution while dealing with sellers on these platforms.
Facebook Marketplace: Created in 2016, Facebook Marketplace is a platform hosted on Facebook that allows users to discover, buy and sell various new and used items directly through the Facebook website. Unlike other classified ads websites, Facebook Marketplace is not anonymous which means that you know exactly who you're buying from and selling to.You can easily find listings on Marketplace by using the search function and filtering your searches by location, price, and category. Also, the algorithm remembers your searches and shows you similar items the next time you log in.
Items in various categories are sold on Marketplace, including Clothing & Accessories, Electronics, Hobbies, Housing, Home & Garden, Vehicles, etc.
Auctions: Auctions involve items being put up for sale and sold to the highest bidder. You can find items you wouldn't find elsewhere for sale in online and physical auctions, such as rare items, antiques, collectibles, memorabilia, vintage furniture, luxury items, etc.
Craigslist: Established in 1995, Craiglist is renowned as a classified advertisements website. Craigslist includes different kinds of posts about job openings, property sales, services, and volunteer work but you can find the occasional bargain deal for a high-demand item.
Yard Sales: This one is overlooked, but is a massive opportunity for any eBay seller looking to flip items. The great thing about this is you are able to find items to flip that competitors do not easily have access to, so you have a competitive advantage.
AliExpress: AliExpress is a Chinese e-commerce store that has become synonymous with bargain prices. You can find items at literally less than half the price you'd find elsewhere.
Dumpster Diving: While not the most glamorous of product sourcing methods, dumpster diving can be a great way to find good-condition items at no cost (Can I get a "give me the free stuff?") You'd be surprised at the treasures you can find while going through dumpsters. You can fix up and refurbish some of these items and list them on eBay.
If you're buying online, it is important to make sure that you're working with a seller that has an established track record and you're paying through a secure mode of payment.
Validating your Product Ideas
Interest should not be the only factor in choosing your eBay niche. Profitability is equally important. Not all product niches have a healthy enough profit margin to justify eBay flipping the item. The ideal niche is one in which you are interested, experienced, and able to make a consistent income.
Validating your product ideas involves researching the demand and competitiveness of a product niche. It helps you determine how much you can sell items online for and other strategies you need to employ in selling the product.
In terms of validating eBay product ideas, there are several options, but none can match Zik Analytics. Zik Analytics is a complete eBay research tool that allows you to discover bestsellers, examine your competitors, and find the most profitable product categories and keywords. Zik Analytics gives you an edge over your competitors and helps you stand out in the market.
You can use Zik Analytics to find out if your product is in enough demand, analyze your competition, and determine what price you need to compete. To validate your eBay product ideas with Zik Analytics, you need to follow these steps:
Search for a specific product. First, you need to search for a specific product in the Search Tab. You can search for the product by its title or Universal Product Code (UPC). You can include as many descriptive keywords as possible to make your search more relevant and accurate. Also, choose the right shipping location from the menu to the left. You can also filter your search based on price, listing format, product condition, and feedback. The 30 days sale date range is recommended when validating product ideas.
Click the 'Search' button next to the Search Tab. Check the box on the top of search results to check all the items and select 'Zik Selection.'
Analyze success probabilities
There are two things you need to achieve at this stage:
Validate demand and competition. From the 'Product Research results, you can see the Sell Through Rate, overall sold items and sale earnings in the last thirty days(or your selected date range), the average product price, and the percentage of successful listings. The sell-through rate helps you validate the product demand and the number of successful listings validates the competition. A sell-through rate of 500% and above is considered ideal. Also, you should choose products with a minimum of 30 percent successful listings.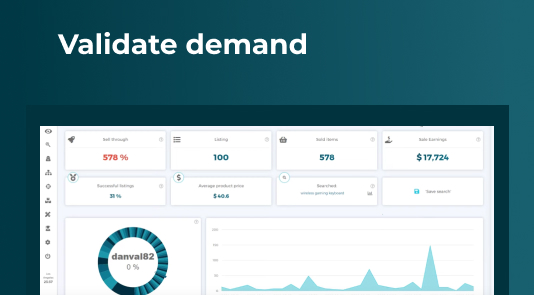 For the product 'wireless gaming keyboard,' you can see that the sell through rate for this item is 578%, the sale earnings over the last thirty days is $17,724, the average product price is $40.8, and the percentage of successful listings is at 31%. The sell through rate implies that there are 5.78 buyers for every listing of this product and the 31% successful listings mean that out of every 100 listings, 31 percent are successful i.e they sold at least one product.Directly below the listings statistics is the diversity pie where you can check the competitiveness of the product and which sellers have the most market share. As a new seller, you should always try to look for products that are more diverse i.e not dominated by one or few sellers. The trends chart shows the volume of daily sales over the last month.
Validate Market price. Here, you determine the price you can sell the product at while still generating sales and making a profit. You can start your research by looking at the sellers' feedback. See the products that are very similar to the one you're planning to sell and check how much they are selling for. If you are unable to compete with the top sellers, look at how the beginners are doing and try to compete with them.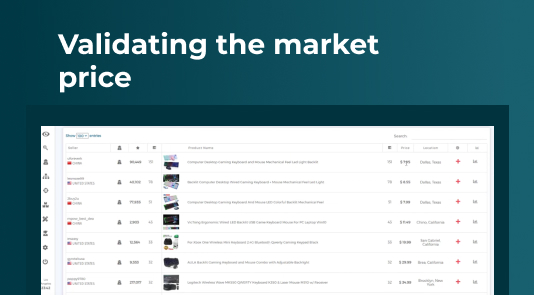 Setting up Your Flipping Business on eBay
Open a Seller Account: The first step in starting to sell on eBay is opening an eBay seller account or eBay store. This is required to list items on eBay. Opening a seller account is free and you have the option to upgrade to an eBay store with a paid subscription later on. To open a seller account, you'll have to provide some important details so eBay can approve your account. You can change your username after your account has been successfully created.
Set up a payment method: Including a payment method with your eBay account enables you to receive the payments from products you've sold. It's incredibly easy to do. Just add your bank account details to "Payment Options" in your eBay account.
List Your Items: After setting up your eBay account, you can go ahead to list items for sale. There are different selling formats on eBay: fixed-price listings or auction-style listings. You'll need to choose the right one for your product. Rare items whose price you can't determine are better sold through auctions.
Set your store's return policy: eBay has a return policy for eBay buyers under its Money Back Guarantee policy. But it is preferable to have your own store policy concerning returns. eBay enhances visibility for sellers that offer at least a 30-day return policy. You can choose to offer a 60-day return policy to attract more customers. To be on the safer side, you could include a clause in your return policy that requires customers to return items in their original condition.
Shipping to Customers: According to a report by Jungle Scout, 66% of buyers expect free shipping on every purchase they make online. Also, 71% of eBay purchases are shipped for free, as reported by A2Xaccounting. People love free stuffs.I
So, if it makes business sense to do so, offer free shipping in your eBay store.
How to Make the Most from Flipping
Create attractive listings: It is a no-brainer that your store listings need to be appealing to pull buyers. There are certain things to optimize when creating your eBay listing:

Keywords: Make sure to include your keywords in both the title and description. You should avoid keyword spamming to violate eBay's search manipulation policy. Keyword spamming can lead to your listing being removed.
Title: Your title is the most important part of your eBay listing. To optimize your listings for eBay's search algorithm, your title must include your most important keywords at the start of the title and relevant long-tail keywords. You can optimize your titles using the Zik Analytics eBay Title Builder. You can use this powerful tool to create titles that rank high and appeal to more buyers.
Description: Your item description is another important part of your listing. You should make sure to include any relevant search terms while avoiding keyword spamming.
Product Pictures: Include high-quality pictures taken in good lighting. Your pictures must be at least 500 pixels on the longest side and you can add up to 12 pictures.
Price: Your price influences your seller score and the number of sales you make overall. Make sure that your listed price is competitive enough.

Improve your Seller Rating: Your seller rating on eBay influences how much buyers trust you. It also affects how high your listings are ranked. Your seller rating is determined by the following factors: item description, communication, shipping time, and handling charges. Sellers that meet the highest standard of customer service on eBay are classified Top Rated.
Shipping Time: Fast shipping allows you to compete with other sellers on eBay. Be sure to communicate estimated delivery dates to your buyers.
Specialize: Having an eBay niche allows you to develop experience in that category and provide greater value to your customers.
Minimize your Packing Costs: Packing expenses can cut into your business' profits. You can purchase items such as printer ink and shipping labels in bulk to save money.
Conclusion
There are several different options available when it comes to selling items online for a profit. You can dropship from AliExpress, sell private label products, open a niche store and sell handmade products or you can flip items on eBay.
Flipping on eBay is easy to start up and requires little to no initial cost. All you have to do is make sure you target the right categories and buy for less than you can sell. If you can put in the time, flipping on eBay can bring in a steady income to supplement your day job.
FAQ
Is flipping items on eBay profitable?
Yes. Flipping items on eBay can be a very profitable venture. You can earn several hundreds of thousands of dollars every month reselling items online. Daniella Flores, a part-time seller on eBay, claims to make $750 to $1000 every month from flipping second-hand guitars and other items on eBay.
The amount of income you make every month depends on the time you put in, the amount of product research and market research you carried out, and whether your listed items are in demand or not.
What are the best items to flip?
To successfully run a flipping business on eBay, you generally want to stick to low-ticket items that are in high demand. The top five best items to flip on eBay are:
Furniture: A lot of people sell high-quality furniture at ridiculously low prices just to have it out of the way. You can rehab and refinish these furniture items and sell them at a profit.
Sports Equipment: The Fitness category is a seasonal bestseller on eBay. Items such as treadmills and exercise bikes take up a lot of space and sometimes, the sellers are willing to offer them at bargain prices. Other types of sporting goods such as bicycles, soccer items, hockey items, basketball items, etc, are also worth a look.
Electric power tools: Power tools are usually bought in used condition since new power tools cost a pretty penny. You can pick up good-condition power tools from garage sales or classified ads websites and flip them on eBay.
Clothing: Vintage clothing is a steady source of income for some sellers on eBay. If you can put in the time and labor, you can make some serious profit from selling clothing. Also, you can pick up some hard-to-find retro t-shirts from garage sales and sell them on eBay.
Musical Instruments: Sometimes, musical instruments like pianos, keyboards, and guitars just lay about in the homes of the owners, collecting dust, until someone notices them only to immediately forget about them. These instruments are sold off just to get rid of them and free up space.If you look well enough, you can find musical instruments available for purchase at a price that is basically a steal and resell them for profit.